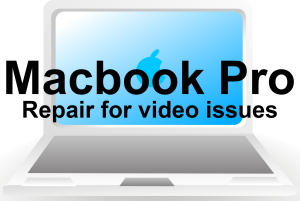 For the past 3 or 4 months, my 2011 Macbook Pro started exhibiting strange behavior. Sometimes the computer would lock up on me, other times I would see lines or distorted graphics on the screen. Recently it got so bad the computer would not even start up. Very frustrating to see it fail when you spent several thousand of dollars on it just a few years ago.
The issue appears to be the discrete graphics chip was not properly soldered to the motherboard and over time the connection becomes brittle and fails. One website has extensive information on the issue and various ways to contact Apple.
As of February 19, 2015, Apple is now repairing free of charge certain Macbook Pro computers that experience this issue. Here are the affected models:
2011 – 15″ and 17″ MacBook Pro
Mid 2012 – Early 2013 – 15″ MacBook Pro with Retina display

If you have already paid to have this issue fixed, you can contact Apple for a reimbursement. I have started the return process and I am currently waiting for the prepaid shipping box to arrive. Once my machine has been fixed, I will update this post.
For more further information, please visit Apple's repair website:
http://www.apple.com/support/macbookpro-videoissues/
Has anyone else experienced this issue on their Macbook Pro? Were you able to get it fixed? Let me know in the comments below.